Representative of An Binh Group participants signing consultation conference in Russia
25/03/2022
On December 1, 2021, Mr. Nguyen Gia Long – Chairman of TNT Group – Representative of An Binh Group had a working session and participated in the signing ceremony of cooperation agreement in Russia under the witness of the State President. Nguyen Xuan Phuc and representatives of ministries, agencies and business delegations of the two countries Vietnam – Russia.
Also at the event, President Nguyen Xuan Phuc emphasized that the two countries Vietnam and the Russian Federation have a friendly and cooperative relationship for more than 70 years. The President also said that the cooperation space of each economic sector is still very large. Vietnam can continue to import wheat or pork, but it needs to boost exports of agricultural, food and other products that Vietnam can produce.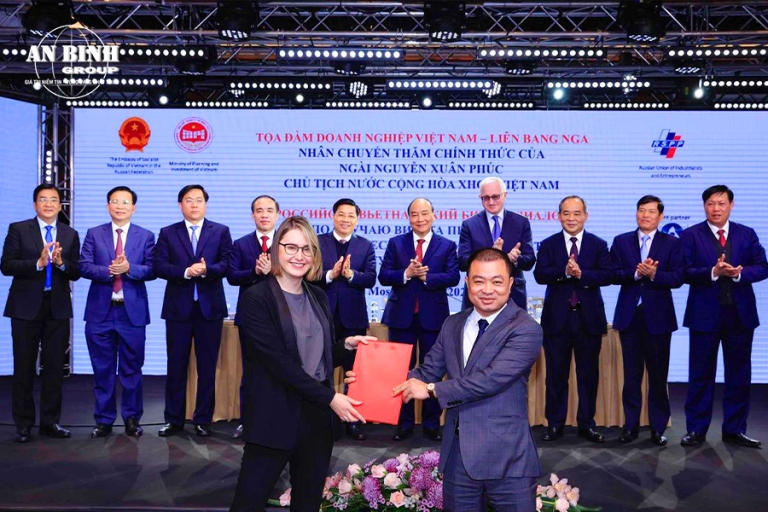 An Binh Investment Import Export Joint Stock Company (An Binh Group) is a joint venture with TNT Group operating in the field of importing, trading and distributing frozen foods.
Representatives of the two sides handed over the cooperation agreement in the presence of President Nguyen Xuan Phuc and the delegations of the two countries Vietnam – Russia
Miratorg is one of the largest Russian food exporters and is constantly expanding the scope of its authorized markets.
The event is within the framework of the Vietnam – Russian Federation business seminar taking place on the afternoon of December 1, according to local time.
Accordingly, the parties intend to formalize their cooperation with a cooperation structure acceptable to both parties to continue discussing and agree on the purpose of a cooperation agreement to jointly develop the Miratorg brand. in Vietnam market..
The two sides signed an agreement and agreed on future negotiations for each order and each price for each product code that Miratorg offers to An Binh Group in the Vietnamese market. The Parties will fully notify about the plans, order quantities as well as the progress of shipment.
Miratorg is responsible for producing the right quality, specifications and shipment on time as agreed. If there are any changes, Miratorg must notify and get the approval of An Binh Group for each order.
Sharing about this cooperation, Mr. Do Dinh Son Tung – Chairman of An Binh Group said: "We believe this cooperation is an important step to improve capacity as well as help all 3 companies ( Miratorg – An Binh Group – TNT Group) has made faster progress in the market in Vietnam and Russia. With the prestige, capacity and professionalism of An Binh Group available in the food industry, I hope this cooperation agreement will lead to success in the future."
AN BINH GROUP – TOP 1 PRESTIGE FOOD IMPORTER IN VIETNAM
*********
See more: