How to discover Indian Buffalo meat that has been spoiled
01/09/2021
According to nutrition experts, buffalo meat is one of the meats besides having high nutritional content, buffalo meat is also a healing dish. In addition, Indian buffalo meat is also an easy food to prepare many dishes, convenient for housewives. However, in the process of importing, transporting to Vietnam and preserving before reaching customers, it takes a long time. Therefore, frozen buffalo meat is at risk of spoilage. So, to help customers buy fresh buffalo meat, please obtaining the ways to identify Indian buffalo meat that we share below.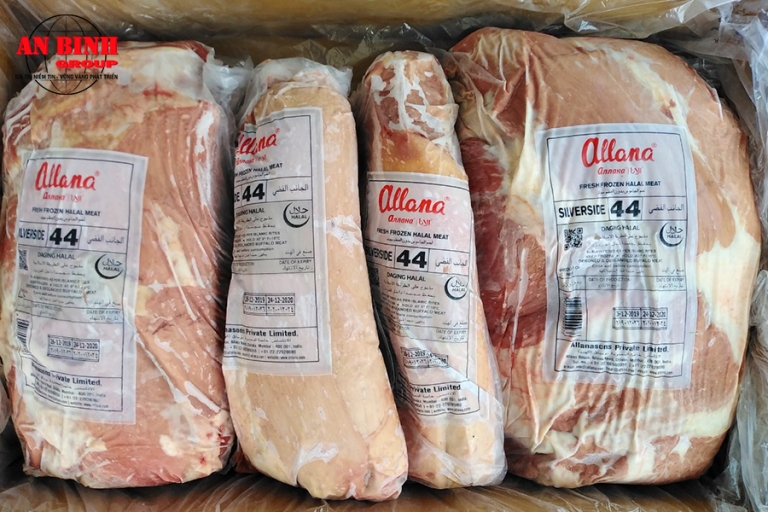 Look carefully at the expiry date on the box or package.
Before deciding to buy Indian Buffalo meat in particular and all frozen foods in general, you should carefully review the label on the box/packaging. Especially the production date and expiration date. According to experts, frozen meat can be preserved from 6 months to 1 year at -20 degrees Celsius. If buffalo meat has expired or the packaging date is too far from the time of purchase (>1 years) although it looks very fresh and the price is very cheap, you should not buy it.
How to identify fresh Indian buffalo meat through Color Test
After slaughtering, frozen buffalo meat imported from India will be cleaned and frozen immediately according to a closed process, so it always keeps its pale pink color (darker than beef). However, during storage, using unsatisfactory temperatures or keeping for too long, buffalo meat can be very easily damaged. Therefore, when you buy frozen buffalo meat but find that the meat is gray, dark and no longer bright pink, it has been spoiled. Absolutely you should not buy, because it will not taste good and affect your health.
How to identify fresh Indian buffalo meat by taste
Indian buffalo meat does not have a strong odor, often with a fishy smell. If you smell a pungent, unpleasant odor.
Prove that buffalo meat has been spoiled and is no longer fresh. So when you do not notice this but still buy and use, process the food, it is definitely extremely uncomfortable by its smell.
Buffalo meat with so cheap price should not buy
Often the cheap food vendors hit the customer's psychology fresh but cheap. Therefore, there are a number of suppliers that buy goods of unknown origin, or use chemicals to freshen food. So users absolutely should not buy cheap meat, unknown origin. Because it will be extremely dangerous to health if using it.
The best way to identify fresh Indian buffalo meat is to find reputable suppliers
All the concerns we shared above will be eliminated when buyers choose for themselves a reputable importer and distributor of Indian buffalo meat, whether retail or bulk purchase. So what does a reputable supplier have?
An Binh Group is a unit specializing in importing and supplying frozen food including Indian buffalo meat. An Binh Group has invoices and documents proving the origin of the product, is granted a certificate of food safety and hygiene by the competent authority, and the cold storage system meets the standards and commitments, provide customers with a variety of products of the highest quality, safest and high nutritional value to ensure the best nutrition for your family.
In An Binh Group, there are many different types of ALLANA brand buffalo meat imported from India such as:
Allana frozen Tongue (Code 86)
Allana frozen Slice (Code 11)
Allana frozen Cube Roll (Code 67)
Allana frozen Brisket P.E (Code 61)
Allana frozen Chuck tender (Code 64)
Allana frozen Blade (Code 65)
Allana frozen Topside (Code 41)
Allana frozen Thick Flank (Code 42)
Allana frozen Silverside (Code 44)
Allana frozen Striploin (Code 46)
Allana Frozen Heart (Code 83)
Allana Frozen Tail (Code 57)
Allana Frozen Trimmings (Code 222)
Allana Frozen Shin shank (Code 60)
Allana Frozen Kashila (Code 47)
Above are the analysis to help people have a way to identify Indian buffalo meat to avoid buying spoiled meat. With many types of these products, you can make a variety of attractive dishes such as: buffalo meat upstairs kitchen, grilled buffalo, buffalo rolled with guise leaves, stir-fried buffalo with water morning glory.