TOP 5 Delicious food processed from India's buffalo
22/09/2021
An Binh Group would like to introduce Top 5 delicious dishes made from buffalo meat that everyone must try once in their life. Like many other foods, there are many variations to make many different dishes from the same food. Same goes for Indian buffalo meat.
In this article, An Binh Group will introduce to you the Top 5 dishes made from Indian buffalo meat that are famous everywhere and become specialties, which everyone will remember after enjoying once.
The first dish in the Top 5 delicious dishes made from Indian Buffalo meat is Kitchen buffalo meat
When it comes to buffalo meat, perhaps the first dish that is mentioned the most is buffalo meat upstairs kitchen, this is a traditional dish and a specialty of the northwestern mountainous provinces of Viet Nam. Although buffalo meat upstairs kitchen takes a bit of time to process, it can be preserved and used for a long time. The Chuck tender and rumpsteak meat are often selected to prepare this dish, to create a unique and attractive flavor for the kitchen buffalo meat is a combination of many different spices, in which indispensable. get the prickly ash. People can cook at home to change their taste through the following instructions: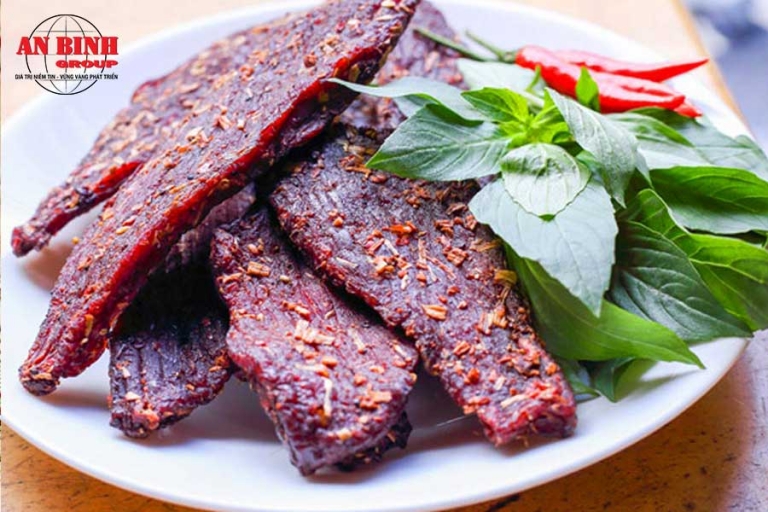 Steps to prepare kitchen buffalo meat:
Step 1: Preliminary processing
– Chuck tender washed, drained and cut into long rectangular pieces about 2 knuckles thick along the grain. Then, slice the meat until meat tender.
– Use a pan to roast or grill on dry chili coals until fragrant, then put in a mortar and pound with garlic, ginger, lemongrass, prickly ash, salt, and sugar to make a spice mixture.
Step 2: Marinate buffalo meat
– Take the spice mixture that was pounded in step 1 close to the meat and mix well, let the meat infuse the spices within 1-2 hours.
Step 3: Dry the meat
– You need to prepare a smoked stove and a bamboo stick to skew the meat.
– Place each piece of meat about 1m away from the stove and dry continuously for at least 13 hours to dry the meat, depending on the degree of dryness you want, but the drying time is longer or faster. During the drying time, be sure to turn the meat over so it cooks evenly.
The drier the buffalo meat in the kitchen, the longer it will be preserved, so store the meat in the refrigerator and steam it before use.
Buffalo meat with bamboo leaves (also known as Giang leaves)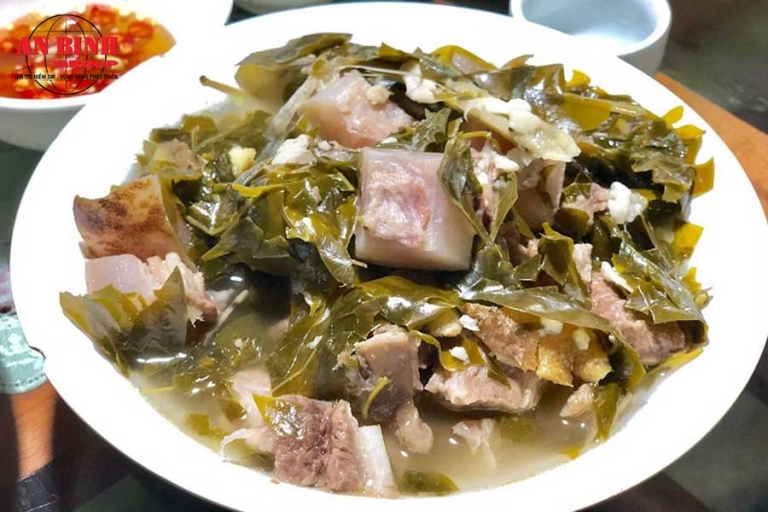 This is also a quite attractive dish and also loved by many people. The use of leaves cooked with buffalo meat is to help dispel the inherent smell of buffalo meat to create an attractive dish.
We prepare the following ingredients:
300g buffalo meat
About 100g of leaves (also known as Giang leaves)
3-4 garlic bulbs
1.5 tablespoons fish sauce
1 teaspoon of mashed prickly ash
½ teaspoon salt
Cooking oil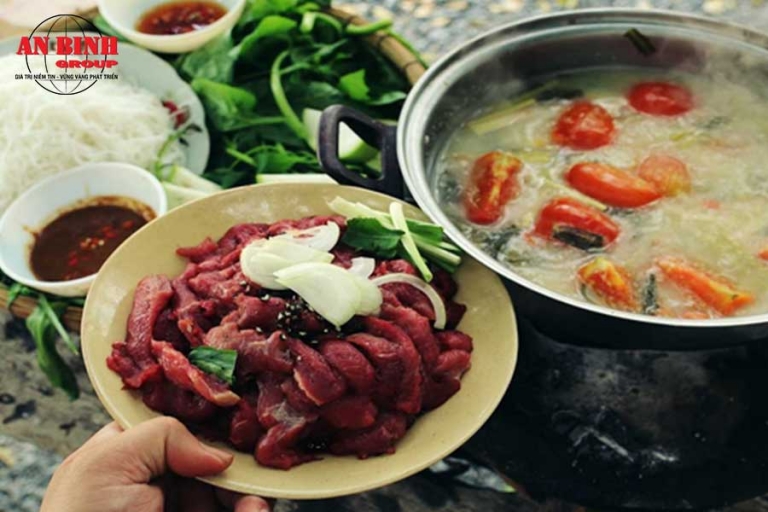 How to do it is very simple:
Step 1: Marinate thinly sliced ​​buffalo meat with garlic, fish sauce, prickly ash, and salt for about 30 minutes.
Step 2: Wash and dry the leaves.
Step 3: Put the pan on the stove to heat, then add cooking oil, marinated buffalo meat, stir until the meat is cooked. Crush/slice the leaves and add them to the island. When you see that the leaves turn brown, it means the dish is ready, turn off the heat and present it on a plate.
After simmering, the buffalo meat is very soft, has a cool and sour taste, and has a greasy and fragrant taste. Surely this dish will appeal to the taste buds of many people.
Dipped buffalo meat with baked rice
It can be said that this is a special dish that people in the South Viet Nam often prepare to use. Up to now, people in all regions have loved the dish of buffalo meat.
This dish is easy to prepare and suitable for cold winters, it's great to have a pot of buffalo meat dipped in batches. However, buffalo meat is cold, so summer is also suitable for you.
Processing:
Buffalo meat will be sliced ​​thin and then marinated with lemongrass, minced chili, garlic, salt, sugar, monosodium glutamate. The baked rice will be added sour, spicy, salty flavors to taste, then put in a pot and put on the stove to boil. When the water boils, dip the buffalo meat in until cooked and use. When eaten, it will be served with herbs such as cilantro, mustard greens, braised vegetables, ear figs, spinach, etc. These vegetables are also dipped in cold water and then eaten with buffalo meat. This dish also has a very attractive taste and can especially be eaten when you are too tired of greasy dishes and want to change the taste.
Buffalo meat cooked with pickles
The dish of buffalo meat cooked with pickles is both suitable for men's drinking dishes, but also extremely delicious in meals. Preparing this dish is very simple, especially it does not take much of your time. An Binh Group instructs everyone how to cook.
First, we prepare the Ingredients (depending on the number of people, preparing enough ingredients.)
– Pickles: 400g
– Buffalo meat: 100gr
– Tomatoes: 2 small ones
– Scallion
– Seasoning: Fish sauce, salt, seasoning, minced garlic, red onion.
How to make buffalo meat melon soup as follows:
Wash the meat, slice it thinly and marinate it with 1 teaspoon of seasoning powder.
Finely chop garlic and onion. Scallions cut into pieces with your knuckles. Tomatoes areca zone status.
Fry onions and garlic until fragrant, then add buffalo meat and stir-fry with high heat. Turn off the heat as soon as the meat is just cooked through.
Sauté tomatoes with cooking oil and pickles in a pot, then pour in cold water and wait for the water to boil.
When the water has just boiled, you drop all the fried meat above and wait for the water to boil again, season to taste.
Scooping the soup into a bowl and garnish with scallions to make it fragrant and beautiful.
Curry buffalo meat is the 5th dish in the Top 5 delicious dishes made from buffalo meat
Compared to beef, Buffalo meat may not be as popular and less well known in curry stews, but nutritionally buffalo meat and beef both have similar nutritional content. Here, we will also make buffalo curry stew: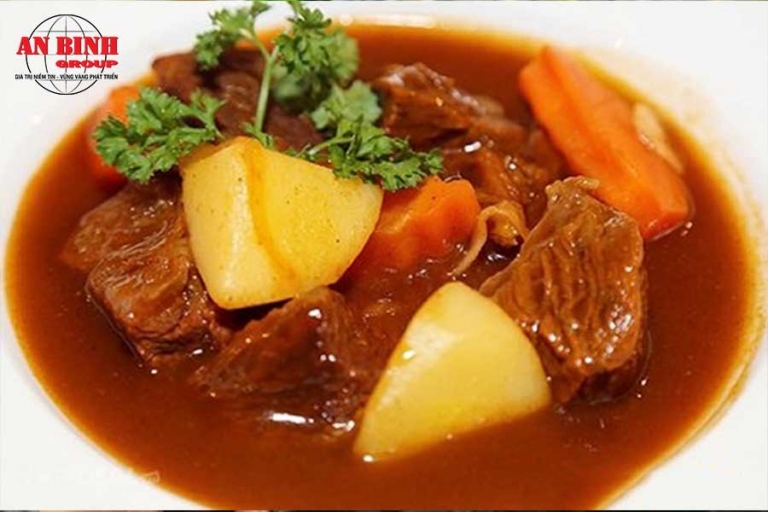 Prepare:
500g buffalo meat cut into square bags
Minced garlic, chili, onion
Curry seasoning
Coconut
Potatoes or peeled sweet potatoes
How to make buffalo meat curry:
Marinate the meat with salt, onion, garlic, and minced chili for about 15 minutes.
Prepare a pan and some oil to fry the meat. After the meat is fried to golden brown on the outside, add the curry powder and mix well.
Put the meat mixture into the pot, pour warm water and coconut milk until the meat is submerged, then turn on low heat, season to taste better.
Curry buffalo meat is served with potatoes or sweet potatoes lightly marinated with sugar, slightly burnt to create aroma.
When the meat is almost cooked, add the potatoes and wait until the curry juice reaches the desired consistency.
Buffalo meat has a lower fat content than beef, while it dominates in terms of iron content. According to nutrition experts, buffalo meat is healthier than beef, although nutritionally, the value of these two foods is similar. Therefore, if you have the opportunity, you should buy imported buffalo meat at An Binh Group so that everyone can freely cook delicious dishes for the whole family to enjoy.
Hopefully, the list of Top 5 dishes made from buffalo meat that An Binh introduced above will help you have a lot of useful information.